Thursday, June 28th, 2012 at 8:03 PM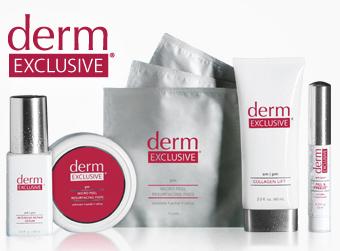 Derm Exclusive is here
Derm Exclusive is now available from this website! This is great news. We just got back from the Team Beachbody coach Summit in Las Vegas and one of the announcements was that Beachbody was extending Derm Exclusive to the coach network.  What does this mean? It means now you can purchase premium skin care products right from this site. So not only can you get P90X, Insanity, Shakeology and all the other Beachbody products from me but you can also reverse the signs of aging with Derm Exclusive from me as well.  You best believe I will also be ordering Derm Exclusive. Dr. Ordon is the spokesperson for this product and you know he has seen his fair share of patients needing help with their skin and wrinkles.
Visible anti-aging results instantly with Derm Exclusive.
With Derm Exclusive®, you can watch as your wrinkles disappear in minutes—no needles, no lasers, no peels, no pain. For the first time ever, there's a skin treatment system that's clinically proven to deliver results that are as good as—and often better than—those you'd see from cosmetic procedures performed in a dermatologist's office.
Four simple steps to younger-looking skin.
The four professional treatments in the Derm Exclusive system target all four signs of aging—fine lines and wrinkles, sagging skin, dark spots, and dullness. Together they help to refresh, restore, rebuild, and renew your complexion for a lifetime of beautiful skin.
Derm Exclusive is breakthrough skincare.
Why? Because it delivers instant skin-smoothing results that you can see right away. And with continued use, your skin just keeps getting better.
Derm Exclusive works for all skin types.
Doesn't matter what your age or skin type is, you can benefit from using Derm Exclusive every day. It's dermatologist tested and approved, includes no harmful preservatives or ingredients, and is never tested on animals.
Team Beachbody® exclusive! Get FREE SHIPPING on all 90-day Derm Exclusive kits when you purchase from this website!
Derm Exclusive is so powerful, the results are clinically proven to be as good as—or even better than—what you'd see from a top cosmetic procedure.
Best of all, it's safe and effective for all skin types. It contains no sulfates, no SD alcohol, no parabens, no formaldehyde, no hydroquinone, and no ingredients derived from animals.
Order Derm Exclusive Now!
Derm Exclusive® Introductory Kit (4 pieces, 30-day supply) $39.95 (w/autoship)
Derm Exclusive® Advanced Kit (4 pieces, 90-day supply) $119.85
Derm Exclusive® Ultimate Kit (7 pieces, 90-day supply) $164.55