Wednesday, January 14th, 2015 at 8:09 PM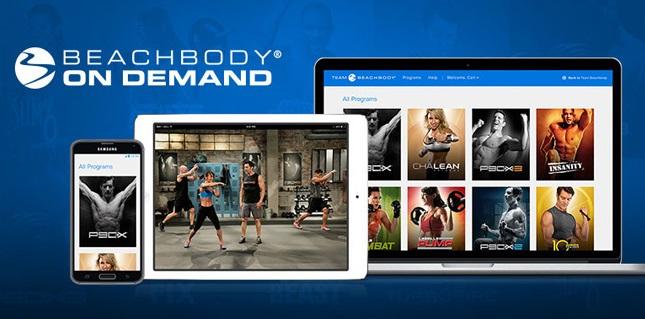 UPDATE: Beachbody On Demand is available NOW and FREE to try out for 30 days!
Our Beachbody workouts are about to get a whole lot more exciting.  Why you might ask? Well, starting in the spring of 2015 you will now be able to stream workouts like
P90X
P90X2
P90X3
Insanity
10 Minute Trainer
ChaLean Extreme
Hip Hop Abs
Insanity: Asylum
Insanity: Asylum Volume 2
TurboFire
RevAbs
Slim in 6
Rockin' Body
Turbo Jam
Power 90
Yoga Booty Ballet
Tai Cheng
Brazil Butt Lift
12 P90X One on One workouts(like 30-15 Upper Body Massacre, Bun Shaper, Killer Abs, Super Cardio etc) and many others. (Volume 1 and 2)
Plus you will be able to sample the some other programs like 21 Day Fix, 21 Day Fix Extreme, Piyo, Body Beast, Insanity Max:30, P90, Slim in 6 and Focus T25.
And many others.
That's over $3100 in workouts and you get access to them all for $2.99 a week. WOW, what a deal!   All you have to do is be a Team Beachbody Club member and you will have access to all of these workouts via your mobile devices, phone, tablet, laptop etc.
It looks like March 2015 is the target date for the launch of this streaming product. Beachbody On Demand is available NOW! It will be tested by our coaches in January and February to make sure it is running smoothly before it will be released to the masses.
You might be wondering what is a Team Beachbody Club Membership?
The Team Beachbody Club helps members reach their health and fitness goals 3 times faster than non-members. When you're part of the Team Beachbody community, you have all of the tools, support and accountability you need to commit to a healthy lifestyle.
Club membership gives access to awesome discounts, personalized meal plans, VIP access to celebrity trainers and Beachbody experts, me for guidance and support, and so much more! But starting now, you'll get all of this PLUS unlimited access to hundreds of workouts in our digital library via Beachbody On Demand. And it gets even better, each month we'll be adding new workouts as well as sneak peeks and exclusive access to new programs. If you haven't signed up yet, it's time to join the Club, and it's all yours for only $2.99 USD a week!
Yes, I know what you are thinking. What a deal!!! $2.99 a week and I get access to all of these workouts? That's over $1000 dollars worth of workouts at your fingertips. Take your tablet to your gym and do your workouts there or anywhere for that matter. On vacation? No problem, you can stream your works there too. Plus you will be able to try multiple workouts that you might not have purchased.
Check out this video below.
General Questions
Q. Will the price of the Club membership increase?
A. The price is not increasing in Spring 2015, but may increase in the future.
Q. Will a customer need to buy the fitness program to stream?
A. No. Programs inside the digital library come with paid membership.
Q. Will streaming workouts be available on Beachbody.com too?
A. No. They are exclusive to TeamBeachbody Club members.
Q. Will Club members be able to stream workouts internationally?
A. Yes. They can stream abroad with a valid internet connection.
Q. Will free members have access to stream workouts?
A. No, but they can upgrade to paid Club membership easily. CLICK HERE to upgrade.
Q. Will there be an extra cost per workout watched?
A. No. Unlimited access will be included in Club membership at no extra cost.
Q. Will the workouts be closed-captioned?
A. No, not at this time
Q. What languages will workouts be available in?
A. All videos will be in English at this time.
Q. Will the videos be available to stream in HD?
A. Yes, as long as the computer/device supports HD.
Q. Must the nutrition & program guides be purchased separately?
A. No.  The guides will be available to view & download for each program on the
Beachbody On Demand web page
Q. Will an IOS or Android App be available?
A. No. Workouts will play on mobile devices via a browser.
Q. Will the workouts be available on ITunes, Amazon Prime etc.?
A. No. They will only be available to Club members on TeamBeachbody.com.
Q. Will the workouts be available to download and watch offline?
A. No. An internet connection will be required to stream workouts.
Q. Will Flash Player be required to play a workout?
A. No. Flash will not be required to play a workout.
If you are ready to get started with your Club Membership today just CLICK HERE to get started.
And if you would like to get started with a free membership for now and upgrade when the streaming is available then you can CLICK HERE for your free account. You will still have access to tons of features on out Team Beachbody site.