P90X3
P90X3 is available.
Are you ready?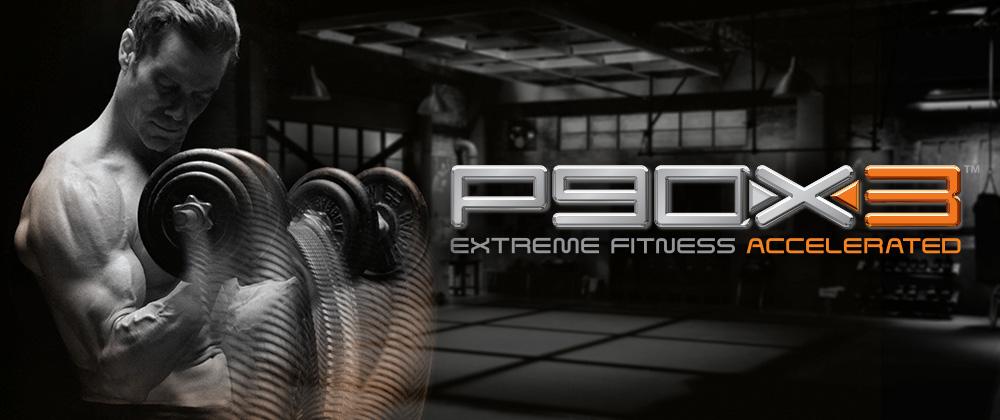 You will also be getting a FREE bonus workout when you order from this site,P90X One on One: On One Leg DVD. 
We changed the way you thought about fitness with P90X and P90X2.
And now, we've done it again, with P90X3.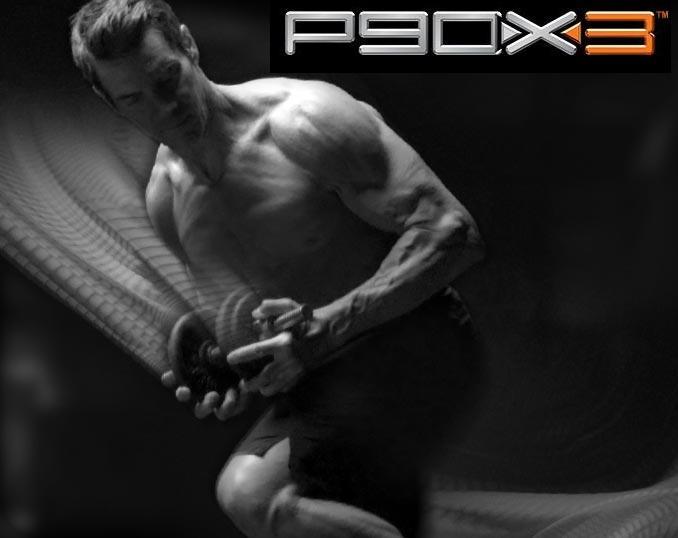 P90X3 is different from any workout you've done before. It makes getting ripped . . . absolutely foolproof. I guarantee you'll never work out the same way again. -Tony Horton
The first thing I want to say is that nutrition is still the most important part of any fitness program. I highly recommend following the P90X3 Nutrition Guide and drinking Shakeology.  That being said, I also want to let you know that the P90X3 challenge pack will be on sale until 12-31-13 which will include P90X3, your FREE bonuses and Shakeology. (your choice of flavor) This challenge pack will be $180 until 12-31-13 and then it will go back to the regular price of $205.00 This is a great deal!
Check out the video below to see what Tony Horton has to say about Shakeology and learn about some of the Super Foods contained in Shakeology. It's only 8 minutes!
Many people ask if I drink Shakeology. Yes, I have been drinking Shakeology every day for almost 4 years. No, I'm not trying to lose weight so I drink it for the pure nutrition that it provides my body. Shakeology is very versatile, so whether you are trying to gain weight, lose weight or maintain your weight Shakeology can help.
How long does it take to complete P90X3?
P90X3 is a 90 day program, split into 3 Blocks. Blocks 1 & 2 each consist of 4 weeks, while Block 3 lasts 5 weeks.
Additionally, the Elite Block calendar, which is an optional block to be completed AFTER the initial 90 days, lasts 4 weeks.
The Elite Block includes 3 workouts not included within the P90X3 Base Kit. These workouts and calendar can be found within the P90X3 Deluxe and Ultimate Kits. In addition, they can also be purchased separately.
How long are the workouts for P90X3?
All P90X3 workouts are 30 minutes. The lone exception is the X3 Ab Ripper workout (15 minutes), included within the Deluxe Kit. Most workouts include a 2-3 minute cool down period.
What is included in P90X3?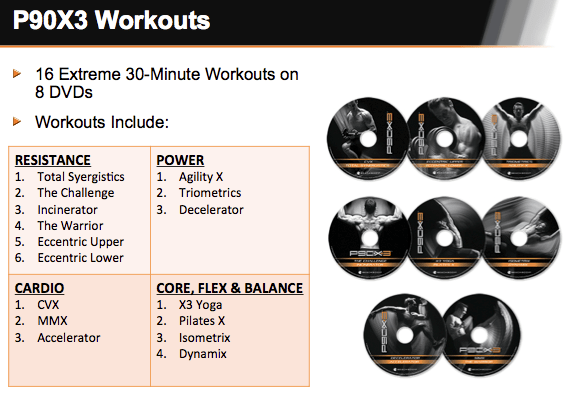 P90X3 Base Kit Includes:
16 unique and brand new workouts on 8 DVDs
Plus, 5 Free Gifts
Fitness Guide
Nutrition Guide
90 Day Workout Calendar
How to Accelerate Intro DVD
24/7 Online Support
Network Exclusive P90X One on One: On One Leg DVD
Network Exclusive Premium P90X3 Hat ($24.95 value) – December Only!
Base Kit Pricing
Retail           $119.85 + S&H
P90X3 Deluxe Kit
Includes everything in the Base Kit PLUS:
3 Elite Extreme workouts on 1 DVD
Includes free Elite Block Calendar
1-Month E&E Tub
3 B-Lines Resistance Bands
Deluxe Kit Pricing
Retail           $239.70 + S&H
P90X3 Ultimate Kit
Includes everything in the Base & Deluxe Kits PLUS:
1-Month R&R Tub
Gym-Quality P90X® Chin-Up Bar
P90X® Chin-Up Max
Premium Beachbody Jump Mat
Ultimate Kit Pricing
Retail           $329.55 + S&H
P90X3 Challenge Pack
Retail Price: $205 (December Promotional Price: $180)
P90X3 Base Kit
30-Day Supply of Shakeology HD
30-Day VIP Team Beachbody Club Membership
P90X3 Elite Work Outs on 1 DVD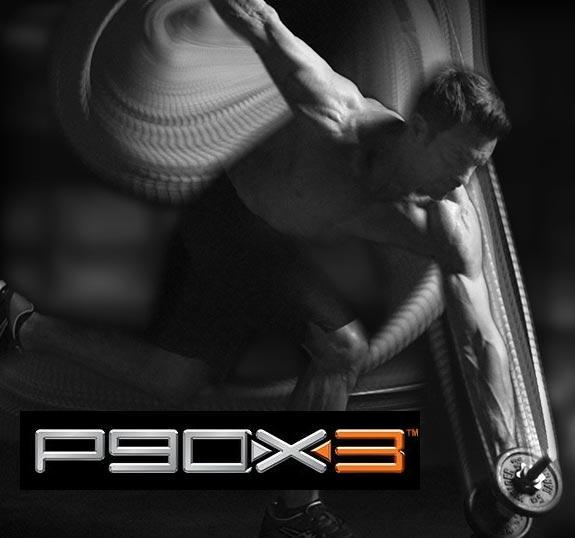 All good things come in threes, but be warned: P90X3 is far from a trilogy. No, P90X3 is NOT the kid sister workout. It's the workout that took notes from it's siblings, then condensed, and accelerated to become the most dynamic and fastest workout yet.
The ultimate excuse buster
Time is the biggest excuse. P90X3 solves that. Every workout is 30 minutes and the clock starts the minute you push play. Before you can say "drop and give me 10," it's over and you are one workout closer to the six-pack of your dreams. 
Muscle acceleration explained
Many P90X fans were hooked on the science of muscle confusion – which introduced variety to the workouts and prevented plateauing. P90X3 takes a hint from that success and from studies showing the most dramatic body transformations happen within the first 30 minutes of exercise. Enter muscle acceleration, a Tony Horton-approved highly-structured schedule with an incredibly high level of intensity and an unprecedented variety of moves. The gurus behind P90X3 combined exercises and added some twists to maximize your time and keep every muscle challenged for a full 30 minutes.
Say goodbye to boredom
Which brings us to the fun-factor. Host, world-renown fitness legend, Tony Horton does not disappoint. With his witty one-liners and can-do mantras, he'll simultaneously have you laughing and fired-up to bust out that final rep. Along with the constant entertainment, P90X3 has the most workouts of any Beachbody program. With 16 workouts in the base kit, they switch it up before you have a chance to consider boredom. From cardio to strength to pilates to MMX, there is something for everyone. 
The ideal P90X3-er
It may seem lofty to proclaim, but P90X3 is indeed a workout for everyone.  Everyone searching for tighter abs and leaner muscles, that is. But fitness novices and experts need not be afraid by P90X3's come-one-come-all invitation. You don't have to have any previous P90X experience in order to get killer results. For the beginner, the variety of workouts in P90X3 is the perfect place to discover their fitness style. If the move can be modified there is a cast member showing you how. But don't expect to be an expert on day one. (Yes, fitness veterans will still be challenged.) As Tony says, "You don't get off easy, you just get to finish faster!"