Shaun T Focus T25
Shaun T's Focus T25
Shaun T's Focus T25
Exclusive Offer! Get the FREE bonus workout DVD Core Speed (a $19.95 value) when you order FOCUS T25™ through this site!!

Get an hour's worth of results in 25 minutes a day!  Shaun T will give you everything you need, nothing you don't. Only 25 minutes. Only 5 days a week. 100% pure results.

Scroll Down for the BEST T25 Challenge Pack Deal!

25 Minutes a Day. 5 Days a Week. 100% Results.
The only thing standing between you and the results you want is TIME. Shaun T experimented for the last year to design a program that delivers the same kind of results you'd expect from an hour-long program, in under 30 minutes. He's pulled out the rest to give you everything you need, nothing you don't. The result is FOCUS T25—and the name implies the intent: If you focus your intensity for 25 minutes, and you do it 5 days a week, you WILL get results.
Your FOCUS T25 program includes:
ALPHA Cycle 25-Minute Workouts:
Cardio. 25 minutes of calorie-burning, sweat-drenching cardio.
Speed 1.0. Ignite your quickness. Burn the fat. Fast-paced for fast results.
Total Body Circuit. Focus on strength and resistance—without lifting a single weight.
Ab Intervals. Cardio and ab intervals that shred the fat from your midsection.
Lower Focus. Focus on your lower-body muscles—the key to burning fat and kicking up your metabolism.
BETA Cycle 25-Minute Workouts:
Core Cardio. Get your sweat on! This progressive cardio-core workout is about you getting shredded fast.
Speed 2.0. Rev it up with Shaun's calorie-scorching, core-focused speed drills.
Rip't Circuit. Cardio … upper body … legs … abs … repeat! This is how you get ripped in 25 minutes.
Dynamic Core. You'll go from vertical to horizontal and back again in this dynamic, crazy core routine.
Upper Focus. Shaun will help you develop the upper body of your dreams. All you have to do is FOCUS.
Tools to Make Every Minute Count:
Quick-Start Guide. Hit the ground running with this step-by-step guide for how to achieve your best results.
Get It Done Nutrition Guide. We make eating simple too! 5 meals a day, 5 ingredients, 5 minutes to prep. It's that simple.
ALPHA-BETA Workout Calendars. Shaun gives you each day's workout so there's no guesswork. All you have to do is nail it!


Scroll Down for the BEST Challenge Pack Deal!
Stretch Workout. After 5 days of hard work, stretch it out—and enjoy this one! You deserve it.
5-Day Fast Track. Get a jump start on your weight loss with this 5-day meal plan. It's not easy but it works!
B-LINES® Resistance Band (15 lb.). Burn fat and carve lean muscle faster with our lightweight pro-grade resistance band.†
24/7 Online Support. Stay motivated with 'round-the-clock access to fitness experts and peer support.
And a FREE Bonus Workout:
Core Speed. Push hard, burn fat, and get shredded in record time with the FREE bonus workout DVD Core Speed (a $19.95 value) when you order FOCUS T25 through your Coach or Team Beachbody®.
30-Day Money-Back Guarantee:
Shaun T is so sure you'll get amazing results with FOCUS T25, he's giving you a 30-day money-back guarantee. If you're not completely satisfied for any reason, simply call Customer Service for a Return Authorization number, and return it within 30 days, and he'll give you a full refund of the purchase price, less shipping and handling, no questions asked.
Would you like to combine Focus T25 with Shakeology, "The Healthiest Meal of the Day?" Then grab yourself a challenge pack and save big!!
You save over $90 with this pack compared to buying each item separately.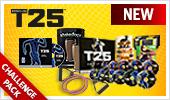 Your Challenge Pack also includes:
Your first 30-day supply of Shakeology®—the superfood shake that helps give you energy, reduce cravings, and accelerate your fitness results‡—delivered on Home Direct, our monthly auto-ship program.*
A FREE 30-day trial membership in the Team Beachbody® Club, where you'll find all the support you'll need to complete your Challenge.**†
Plus Super Saver standard shipping!