Wednesday, March 24th, 2010 at 7:48 PM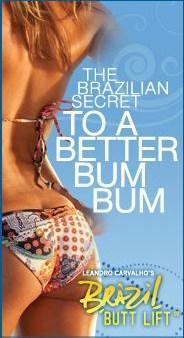 So what do Alessandra Ambrosio, Raica Oliveira, Ana Beatriz Barros, Fernanda Motta and Gisele Bundchen all have in common?  Well besides looking "divine from behind", all of these models have had sessions with the Brazil Butt master Leandro Carvalho.  No, Leandro is not a plastic surgeon, he is a personal trainer and one of his specialties is giving you perfect ass-ets. If all of these models seek out Leandro Carvalho to sculpt their butts then maybe we can to,  if you don't mind traveling to New York and paying some hefty personal trainer fees. Wait a second, Leandro Carvalho has come out with a workout you can do at home called the Brazil Butt Lift. This is great news.  You won't have to book that flight to New York just yet.  You can tone and tighten your best asset in the comfort and privacy of your own home.  Now that's a deal.  Yes, you can get the same trainer Alessandra Ambrosio uses to keep her butt looking good at a fraction of the cost.  Bikini season is just around the corner. Can you pass the pencil test?  In case you are wondering what the pencil test is I will go over it here for you now.  What you do is take a pencil and place it in the crease where your butt meets the back of your thigh.  If the pencil stays in place then you are lacking some lift and the Brazil Butt Lift is just what you are looking for.  The goal is to lose some fat and firm your butt so the pencil falls to the floor.
Leandro Carvalho is originally from Brazil and has earned his degree in physical education and is certified by all of the major fitness training entities.  Prior to this he has danced with companies like Mercer Cunningham.  If you are looking to find Leandro, you can usually find him at the Equinox Fitness Club in New York City where he teaches his Brazil Butt Lift class.  New York magazine awarded this butt tightening class the "Best Bikini Prep Class" in New York in 2004.
It all started when Victoria Secret model Alessandra Ambrosio approached Leandro back in 2001 and wanted a program to specifically target and tone her butt without bulking up her legs.  Alessandra was worried about about doing squats and other leg exercises since she want to stay lean in the legs.  As a result, the Brazil Butt Lift was born and along with it came a lot more models to train who wanted that awesome looking butt. To get started on your butt transformation just go to Brazil Butt Lift and then go to Macy's and get your new bikini.