Thursday, January 28th, 2010 at 7:59 PM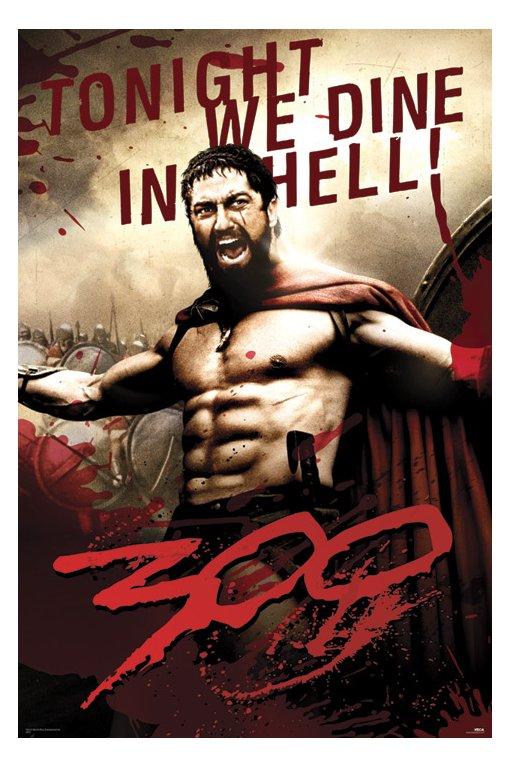 So I am sure you are familiar with the Brad Pitt fight club workout but what about the Spartan 300 workout?  What the heck did these guys do to get so ripped?
The 300 workout was created by Mark Twight who is the man you want to talk to if you want to get ripped fast.  He is a self taught trainer and knows what it takes to get results.  The 300 workout got it's name because this is the number of reps you do throughout all of these exercise. (Just as a word of caution, don't go run off to the basement and think you will be able to complete this.  The 300 workout is not for beginners and you could seriously injure yourself.  This is something you work up to over time.)  Now if you have just completed the P90X 90 day workout and were able to complete all of the moves then you could probably give this a try. The idea is to complete all reps and exercises with no break and as fast as you can. Maybe you will able to compete with Andrew Pleavin who played Daxos in 300 and finished the 300 workout in 18 minutes and 11 seconds.
These Spartans did not start out in this shape.  It took 10 weeks of training for 90 minutes to 2 hours each day, 5days a week to get in this shape.  Gerard Butler trained for 12 weeks and often put in more hours to get his 6 pack.
When the training started there were guys in perfect shape and others that were 40 pounds over weight but if you have seen the movie you know what the end results were.  All of the Spartans looked like they have been training together for years and that is exactly what the director Zack Snyder wanted.
Here is what the 300 workout consists of:
25 Pull-ups
50 Deadlifts and 135 pounds
50 Push-ups
50 Box jumps with a 24 inch box
50 Floor wipers with 135 pounds
50 Clean and press at 36 pounds
25 more pull-ups for a total of 300 reps.
Pheeewwww!  I am getting tired just writing it.  All of the actors regiments varied depending on where they were at physically.  Some of the guys did high intensity circuit training, some lifted with heavy loads, some did mini workouts and some did hard interval training on the Circuit II rowing machine.
Of course, as with any training program you will most likely have to make some nutrition changes.  So figure out what you are going to eat and plan out your meals prior to starting any fitness program.  This will be a major factor in the results you will see.  If you are looking for a fitness program that will also give you a nutrition plan then check out some of the Beachbody workouts.  If you are looking for an extreme workout then check out the P90X workouts or Shaun T's Insanity.  Both will challenge you and are not for beginners.