Wednesday, September 29th, 2010 at 3:52 PM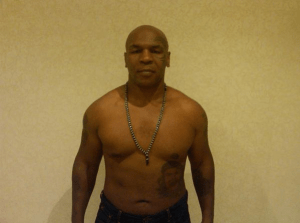 Mike Tyson is doing P90X. I am not sure what to think about this yet.  Is this a publicity stunt on "Iron Mike's" part?  Is he really going to try and tackle 90 days with P90X?  A few days ago he commented on his twitter status that he is starting P90X and this is his day one picture.  I really hope Mike committing to the program.  Personally, I would love to see what P90X would do for this athlete.
Mike Tyson is only 44 years old so I am sure if he sticks with P90X he is going to have some awesome results.  Maybe he will be inclined to think about a comeback after seeing his awesome P90X results.  (Well, I guess that's a long shot)
This is just another example of the reach that P90X is getting.  I would be willing to bet that someone referred Iron Mike to P90X.  Maybe he order it from the infomercial. (Nahhhhh)
Hopefully he doesn't plan on getting his protein source from biting off people's ears!  (LoL, bad joke)  Actually I can't wait until he posts his 30 day update.  Mike says he will be updating and posting pictures every 30 days at Mike Tyson's P90X pictures.
This guy is a legend.  He has had some of the best knock outs you would ever want to see. I think this will be a good commitment for Mr. Iron Mike.