Friday, June 28th, 2013 at 5:28 PM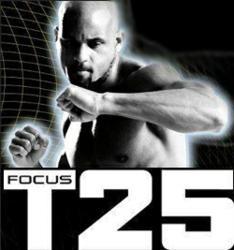 Shaun T's Focus T25 is finally here and you can get it right now. Only 25 minutes a day 5 days a week. Get in, get it done and get on with your day.  So many time do I here the excuse that "I don't have time" or "that workout is too long", well now you don't have any more excuses. Anyone can fit in a 25 minute workout and if you think you can't just let me know and we can go over your daily schedule together to find 25 minutes. Heck, the Focus T25 Nutrition Guide even has 25 recipes of 5 ingredients and 5 minutes prep time. Can you say NO EXCUSES?
You will also get a 5 day fast track plan. What is it you might be asking" The T25 fast track plan is a 5 day plan of 1100 calories a day that contains a healthy source of protein, carbs and fats.
Then when you complete your program and send in your before an after pics and stats you will get a free Focus T25 T-shirt. Not a bad deal and when you couple T25 with Shakeology for a Challenge Pack you will really be getting the best nutrition and an awesome 25 minute workout.
Check out this recipe from the T25 Nutrition Guide.
TOMATO-BASIL SALMON WITH GARBANZOS
1/3 cup canned crushed tomatoes with basil, with juice
1tsp capers
1/2 clove garlic, finely chopped
1 (5-oz) raw wild salmon filet
Nonstick cooking spray
1 pinch sea salt (optional)
Ground black pepper (to taste; optional)
1/3 cup canned chickpeas (garbanzo beans), drained
Combine tomatoes, capers and garlic in a small bowl; set aside.
Season both sides of salmon filet with salt and pepper if desired.Heat medium skillet lightly coated with spray over medium-high heat.
Add salmon; cook for 2 minutes on one side. Turn.
Layer tomato mixture and chickpeas over salmon in skillet; cook, covered, for 5 minutes, or until salmon is cooked through and flakes easily when tested with a fork.
All I know is I am getting hungry just looking at the T25 Nutrition Guide. 🙂 Yummy!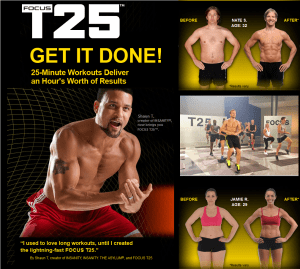 Focus T25 is a breakthrough and most likely just what you are looking for so if you are ready to get started now just click the link below to get started.