Should I Weigh myself and how often?
Tuesday, May 31st, 2016 at 3:58 PM
Should I Weigh myself and how often?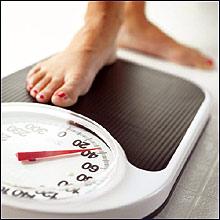 When your goal is to lose weight, most of the time, you can't help but think about shedding the pounds as fast as you can. So you go ahead and spend more time at the gym, sweating it out with a bunch of cardio exercises. Of course, you also do your best to keep to your diet plan and avoid all sorts of high-carb temptations. And then you think and say to yourself, "I must have lost some weight now!" – only to discover that you are about to disappoint yourself.
The Rocky Road Ahead
On your own, you will realize that losing the pounds that you have gained over time is not going to be that easy. In the meantime, you would tend to check out the scale to see if you have made any progress. And what does the scale say to your face? You still weigh the same or worst case scenario would be that you have become heavier. Now, that is completely frustrating and you might feel like wanting to give up. What was it that you have done wrong? Didn't you exercise enough? Should you be trying a different diet plan? Or should you just give up altogether and go back to your old ways and comfortable way of living?
Before you go nuts however and sulk in depression, know this truth: These feelings that you are actually having are pretty normal and mostly expected when you are trying to get rid of the unwanted and the undesirable. The weight loss business can be real tricky and the weighing scale can tell you things that you might not like. Because of this, it is important to understand how losing weight really works so that you don't easily get distracted when it does not reflect the numbers that you have been wanting to see.
Weight Management Realities
The cycle of losing, gaining, and maintaining your ideal weight involves an intricate process that needs to be fully understood. So yes, you have to see beyond what the scale tells you and dig deep into what is happening to your body as you work on achieving your ideal weight. A number of factors are at play that influence how much you lose or gain along the way. Again, weight fluctuations are normal and realizing this alone can already help you think more positively about your weight loss goals, become less frustrated, and be able to persist until you are able to achieve physical transformation.
So what are these factors? The human body is such an efficient system that whatever you do with it, it will do everything in its capacity to maintain that healthy balance. Well, if it is to function accordingly, it has to ensure that not one element is askew – everything has to be just enough. While you are in the process of slimming up, you would tend to cut off on your usual consumption of solid food and liquids and this in turn signals the body of what it lacks and what needs to be compensated or replenished. Likewise, when you indulge in more exercise now than you ever did in the past, this will also have an effect on how your body will respond.
Accordingly, factors such as hydration, recent food consumption, bowel movement, and the energy expended for exercise come into play. Even the climate can have an effect on your weight. As a result, you will notice that each time you step on the scale, it would give you a different reading despite all the efforts that you have made. Needless to say, the weight fluctuations that you will experience will not always be because you have actually gained weight or you didn't treadmill enough but is only the body's way of ensuring that it is able to fulfill its physiological functions.
The question now is, how often then should you take that trip to the scale to check on your weight? Whether you want to shed off those pounds or gain a little bit of weight, it is very imperative to dissect the mystery of the scale first.
More questions to answer
Why weigh yourself in the first place? When you are trying to slim down, the happiest day of your life would be when you see a huge drop in the weighing scale. However, is it actually healthy to constantly check the scale? Is it helpful or more harmful to the individual in this sense? Should you be doing it everyday or in a weekly or monthly basis? There is no black and white answer to this question. What will be considered helpful or harmful depends on what will work out for you and what will be positively motivating for you. Yours is the power to decide as to the frequency by which you should be stepping on the most intriguing scale.
Keeping it going daily
Is it mortal sin to be visiting the weighing scale section each and every day of your life? If the purpose is to make it as a constant reminder of your weight management goals, then the answer is no. A lot of people need a tangible reminder of their health objectives and seeing what the scale will tell them on a day-to-day interval may work. It gives them a sense of responsibility for their own weight loss and renews their enthusiasm to continue doing what they are already doing. Their daily progress is important because it keeps them in the right direction.
Some people would even go as far as keeping a daily log or journal of their weigh ins so they are able to analyze the results and re-evaluate their efforts towards their ultimate health goals.
On the other hand, if you are the type of person who would be easily and extremely affected by the numbers you see, then forget about doing it everyday. You might weigh in one day and notice the 0.6 pounds of weight gain then get depressed about it for the rest of the day. Or, should you see the 1.10 pounds of weight loss and already feel like you can slacken off your efforts with that very minimal and even irrelevant success. Don't forget that certain weight fluctuations like these can be attributable to the factors pointed out above so there is no reason for you to exaggerate. The scale is just giving you numbers and this should not dictate how you should spend your day and the rest of your life. So no, no daily scale checking for you in this case.
Making it weekly
So what about checking out the scale at least once a week? Weekly weigh-in could be the thing for you. You do not have to worry yourself daily with your goals. Instead, you can focus and put all your concerted efforts on what needs to be achieved today so that by the end of the week, you can take a look at the numbers. In this manner, the pressure is off but you are still able to track your progress and remain consistent with your efforts with something to look forward to after 6 days.
The best practice when it comes to making weekly tracks of your weight loss or gain is to choose a certain day to do it and have it done in the mornings. While doing so, assess how your efforts affect the numbers on the scale. However, keep in mind that just like daily weigh-ins, you do not have to pay attention to the minute changes or fluctuations. In addition, your assessment should cover a good number of weeks before you are able to pinpoint a pattern that is giving you more success for your goals and then make sure to implement the same. With this weekly habit, you can still feel that sense of accountability but with more space and time for the actual health-promoting actions.
The Advantage of Periodic Tracking
You can also choose to check in on your progress on an occasional manner. Say, if you happen to have the spare time at the bathroom where you have your scale or at the clinic when you have your medical exam. This works well for those who do not consider numbers that important but find noticeable changes in the fitness of their clothes or how they feel more energized when they exercise more significant. They are in for the big changes and feel very motivated when it is other people who would first comment on or notice their transformation. Health buffs who do periodic weigh-ins believe more in maintaining a healthy lifestyle for the long-term in comparison to short-term, and often fleeting weight management goals.
Forget the scale
Whoever said that the scale is the only way to go? Well, there are also those who simple do not care about the weighing scale. What is most important for these groups of individuals is their general well-being and that's all there is to it. As long as they are eating a balanced meal, feeling comfortable with their clothes, and exercising regularly, then they are good.
So there you have it with four options to choose from. Keep in mind that whichever you pick, it should lead you to the sustainable achievement of your weight objectives. And whatever you do, never weigh in twice or thrice daily. Simply put, that is just too much and anything excessive is bad for you. Use the weighing scale as a tool to help you and not make you obsessive over numbers. This is the secret to a successful weight loss via the weigh-in.
Not liking what the scale says? Check out Hammer and Chisel for a great program.
Filed under: Healthy Tips • Motivation
Like this post? Subscribe to my RSS feed and get loads more!