Understanding the 21 Day Fix Containers
Monday, March 27th, 2017 at 5:18 PM
Understanding the 21 Day Fix Containers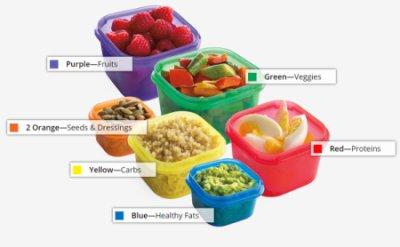 21 Day Fix Containers
Portion control is a critical aspect of any successful nutritional or diet program. However, figuring it out can be tricky without the right tools to guide you along the way. The 21 Day Fix containers provide you with a color-coded solution to help make portion control a breeze and allow you to focus on your fitness goals. This means, no more calorie counting for you because if it fits on the containers and it is on your list of approved foods, then you can go ahead and simply enjoy it.
The Whys
So why is it worth giving a shot? The 21 Day Fix Container is a system that works in a very practical manner. It understands how counting calories is extremely important to you but can be likewise a daunting task. And so with this container system, you do not have to tediously count calories because you would only need to count containers. Its evidently easier keeping track of 3 enticingly green containers compared to counting calories.
Moreover, it ensures that you get all the nutrients you need for the day by eating a little portion from each of the container. You might find, as you begin the program, that you will tend to feel full even when you haven't finished all of the containers yet. Well, this is because nutritious food has got a lot more in it than junk food food so it has also has more volume. So the key is to be able to eat a little portion from each container from your favorite to your least-liked.
The best part about the 21 Day Fix Containers is that it doesn't take away the fun out of eating by making you feel aware of what you eat and empower you to practice moderation. By the end of the 21 day program, knowing how many and enjoying your vegetables, fruits, healthy fats, and lean proteins will be second nature to you as you go through your wellness regimen each day. To make it even more exciting, Autumn Calabrese, 21 Day Fix creator, has put together a FIXATE cookbook for enticing meal plans you can try.
The What 
The 21 Day Fix Containers are all about color and nutrition. Six colors correspond to 6 types of food. Green means vegetable container which can include raw or cooked, and chopped or sliced veggies. This goes for vegetables like kale, lettuce, pepper, squash, onions, and mushrooms. For a voluminous and scrumptious salad, squeeze in as much lettuce as you can in there!
Purple is the container for your fruits. Berries, grapes, or cherries are great as they fit as is, but you can cut larger ones like watermelon, apples, or peaches. Red is the designated container for your protein-rich foods such as shellfish, tofu, eggs, yogurt, and chicken breast. Let the food list guide you for other protein sources. Yellow is the color for caloric carbs and starches. Foods like whole-grain pasta, sweet potato, beans, and rice fit in here. In case there are foods in the list that don't fit like tortillas and waffles, the guide will specify the portions that you can consume.
Blue is the container for healthy fats that includes hummus, cheese, nuts, and mashed avocados, to name a few. For dressings and seeds, they are to be placed in the orange container. The dressings are those recommended in your 21 Day Fix program together with calorie-dense foods such as coconut, olives, and seeds.
To make measuring easier, a teaspoon measurement is included as well and to be used for butters and oils, like in the case of peanut butter and olive oil.
The How
Here's the most exciting part – learning how to use those colorful containers! First step is to go to Page 4 of your 21 Day Fix guide and check the calorie count that you will need each day. After that, go to page 19 and see the 21 chart to determine the number of containers for each color you should be consuming for the day based on your calorie range. Looking at the macro-nutrient percentages, it is evident that the plan is about 30% fat, 30% protein, and 40% carbohydrates.
To make it more fun, you can mix and match the foods in one container as long as they belong to the same category. So if you prefer not to have all spinach in one green container, then you can mix it up and fill one half with some carrots in there. You may enjoy your favorite food straight from the containers especially when you need to be outside or simply empty the contents into a bowl whenever you're at home or however you want to enjoy them.
Filed under: Burn Body Fat • Fitness • Healthy Tips • Nutrition
Like this post? Subscribe to my RSS feed and get loads more!