12 Benefits of Walking for Exercise
Thursday, September 15th, 2016 at 5:18 PM
12 Benefits of Walking for Exercise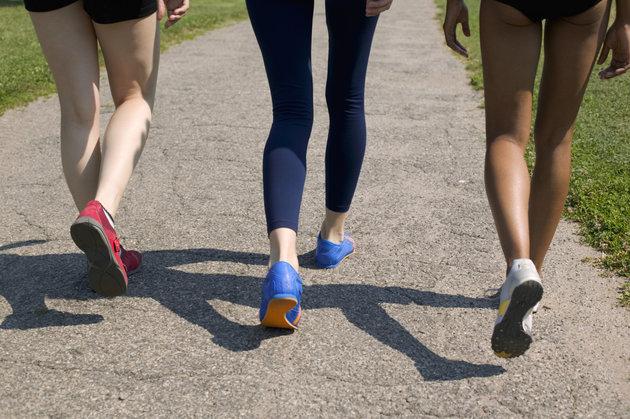 From simple to complex, there are many forms of exercise that you can choose from. You can run, jog, lift weights, do aerobics, yoga, or even high intensity training. However, should you want to make it more doable and easier for you, then there is one exercise that you can succeed in pursuing and that is walking. Yes, walking is the simplest exercise that you can definitely do and naturally at that. Besides, walking is free. You do not have to pay for anything to join or register and this is the best part.
With the right program, walking is likewise known to help you shed the extra pounds or to maintain your ideal weight. What most people do not realize however is that, walking can bring a host of other benefits that you too can avail of. Here are 12 of the most significant ones:
Brain booster
Whether young or old, walking boosts brain functions. Meanwhile, it is most helpful as people age. Walking as an exercise becomes more important with age because it tends to lessen the risks of brain disorders including dementia. Aging brings about deterioration in the whole body and the brain is likewise affected.
Walking however has the ability to reverse the signs of old age. Based on a study issued through the Annals of Neurology, it was discovered that those participants aged 55-88 years old who made an effort to meet the exercise guidelines established by the American Heart Association were less likely to develop Alzheimer's disease.
If you are looking at improving your cognitive abilities though, then there is this one essential trick: Walk backwards. Yes, that's right, walking in reverse was found in a Dutch study to have significant effects on the brain as it helped participants think more speedily while they were on their feet. Also, try to incorporate some brain-enhancing movements to your walking exercise as this intensifies the benefits that you will be getting. For instance, you can move in a determined pattern then couple it with coordinated movements of the arms.
Bone strengthening
Walking is friendly to the bones. With every step, your bones strengthen and this reduces the risk of you developing osteoporosis. Specifically, walking exercises contribute to the strengthening of the hip bones. This was confirmed in a Nurses' Health research in which the women participants who walked for at least 4 hours in a week's time were found to have reduced their risks of suffering from hip fractures.
You can also do the more rigorous forms of exercising such as jumping, weight lifting or running but the benefits for your bones will actually be the same. And so if you would like to start light and easy, go for walking. It will not demand as much from you but it will strengthen your bones just the same. Besides, walking can be such a leisurely activity that it would be like hitting two birds with one stone. This is likewise highly recommended for those who have joint issues as this is a low-impact exercise that is safe for them.
Mood enhancer
Like most physical activities, walking can also enhance your mood. It is perfect for those rough days when you have a lot of negative feelings bottled up inside. Walking it off can really help to let off steam. Stressful situations can really bring you down and walking can help lift your spirits up again. There have been a number of studies that have established the high correlation among improved mood, lowered stress levels, and walking as an exercise.
What would be best in this case is to take a nature walk. The great outdoors with its lush greenery can be very relaxing especially when it is spent with someone who is able to lend a helping hand or a listening ear. Walking alone can also be a meditative venture. Just make sure that you do so in safe areas or parks.
Keep your circulation going
Walking is very heart-friendly. Most physical activities, including walking, actually does the heart a lot of good. In particular, it makes your body's circulation run smoothly, enhancing it with every effort made. Because of this, it helps keep your blood pressure levels at bay and reduces any risks of a heart attack. And as you know, this simple exercise does not demand a lot from you. Brisk walking for as short as 30 minutes daily, already qualifies you to these circulation benefits. So the next time you feel too lazy to walk, remember how you can help your heart if you just walk the extra mile.
No more Humpty-Dumpty
Aging cannot be avoided, but there is definitely something that you can do to steer clear of falling or tripping disasters as you age. Making strong powerful strides as you do your walking helps keep your balance and strengthens your muscles especially when it is done consistently. When muscles start to weaken in the shins or when you experience a loss of balance, this causes a shuffling gait and sooner or later, you will find yourself falling or tripping. Walking regularly helps resolve this problem by providing strength for the lower body and improving balance.
So the next time you take a walk, make exaggerated actions – giving emphasis to the heel-to-toe movement as the foot moves towards the shins, better identified as the dorsiflexion. Walk it bravely so you won't end up like humpty dumpty.
Sharpen your memory
The more you walk, the more you remember. When you are able to perform your walking exercises on a regular basis, you do not have to worry about things that you might forget or trying to recall something important. Walking targets the hippocampus part of the brain that is in charge of learning and verbal memory. As observed in a study made by the researchers from the University of California in San Francisco, those women aged 65 years and above who made walking as part of their health routine experienced lower age-related decline in memory in comparison to those who didn't.
Pain relief from arthritis or fibromyalgia
If you find yourself crippled by pain, then there is more reason for you to move, get up, and walk. Making frequent walks can help ease the pain as well as minimize the symptoms associated with fibromyalgia, arthritis, and other similar conditions. With this exercise' low-impact and moderate nature, it can certainly help in lessening the pain. For most individuals, it can even improve their body's functions. Like any other exercise program though, it is best to pay your doctor a clinical visit before you proceed so as to make sure that it is safe and approved for you.
Stabilize blood sugar levels
Fluctuations in the blood glucose levels can spell disaster for the body's internal system. To avoid the serious consequences including developing Diabetes, take a walk during the day or at night – whichever is most convenient for you. However, should you want to maximize the health benefits of walking, doing it after eating can be more effective. Through a study found in the Diabetes Care journal, it was shown that walking after meals for a quick 15-minutes is as effective as walking for 45 minutes when your goal is to lower your blood glucose levels for a 24-hour period.
Bolster immunity
Walking makes your body stronger inside and out. You do not only become physically strong, but more importantly, it builds your resistance against diseases. With a solid immune system, you can guard yourself against life-threatening cancer, Type 2 Diabetes, and other debilitating conditions. Make walking a daily habit or do it at least 3 to 4 times a week. You will slim down and look good on the outside as well as become impregnable from the inside.
Sleep soundly
There is nothing like a good night's sleep. It gives you the positive motivation as you wake up each morning. Otherwise, you will feel groggy and unable to deal with your daily tasks competently the next day. So what do you do to get that peaceful, uninterrupted slumber that your body deserves every single night? Morning walks are best recommended for those who find sleep hard to hit. Surely, you will be able to catch some Z's faster than when you did not make an effort to exercise at all. Get outdoors, walk in the morning, and bask in the sunlight. Exposure to the early morning sun allows you to remain in sync with the natural circadian rhythm of your body, paving the way for you to sleep heaven.
A ball of energy
So where do you muster the energy to face the world everyday? Be your best and more energized self daily by keeping to your walking exercise routine. Brisk walking is one of the most potent natural sources of energy that you can count on to help you finish the job efficiently and speedily. With each step, you are increasing the supply of oxygen to every single cell of your bod and making yourself feel fully alert, alive, and enthusiastic. Walk during your break or lunch time and have the energy to accomplish more for the next half of your day.
Pump up the bum
What do you leave behind as you turn your back? Yes, it is your buttocks and you don't want to leave without making a good impression. Walking is the best exercise to keep your behind fully engaged with the human world. If you have been sitting around all day and have to keep doing it the rest of the week, then you are causing your glutes atrophy and inactivation. Walk as much as you can and you will transform that rear in no time. In specific, you can power up your bum while walking by placing your hands on both glute. It will tense up for a bit as your hands do the pushback. Keep going and you will walk your way through those sexy bottoms.
And if you're ready to do a little more than walking then check out our Beachbody On Demand FREE for 30 days where you can do workouts like P90X, P90X3, Insanity, T25, Hammer and Chisel, TurboFire, Turbo Jam, P90, Yoga Retreat and many many more. (This is an awesome value)
Filed under: Fitness • Healthy Tips • More Work Outs
Like this post? Subscribe to my RSS feed and get loads more!